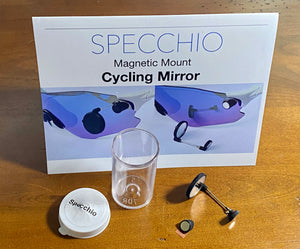 Try the revolutionary, patented cycling mirror that attaches directly to your glasses lens, snaps into place and is adjustable using magnets.  The small mirror, positioned close to your eye, offers a surprisingly large field of view.  There is virtually no vibration, and the mirror is easy to detach for storage when not in use.  Compatible with most cycling sunglass brands, including Oakley, Tifosi and Rudy Project.
Your order includes:  mounting attachment, mirror, and instructions.  (Sunglasses not included.)
Free shipping within the United States;  30 day money back guarantee.